Central Circular Energy accounts for 1.1 TWh
The electricity industry does not reach her emission ceiling of 12.2 Mtonnes CO₂ if no additional CO₂-free automatic Frequency Restoration Reserve (aFFR) is supplied. This is the conclusion from a study that DNV GL has carried out for RWE to discuss at the Climate Table Electricity. Circular Energy can supply part of this CO₂-free reserves with its clean offshore power plant.
The energy consultancy has examined four reference situations. With emissions of 18-29 Mton, the emissions exceed the limit imposed on the electricity sector. The researchers calculated that 26-37 TWh of emission free aFRR is required. The current 7 TWh of CO2-free electricity from nuclear energy and biomass is insufficient; an additional 19-29 TWh is needed. If the Dutch export of gas is taken into account, this even goes up to 72-84 TWh.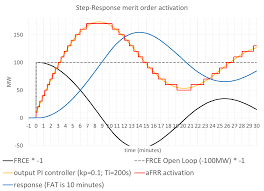 According to the researchers, CCS is one of the options. The offshore power plant of Circular Energy includes CCS and is capable of supplying 1.1 TWh of CO₂-free aFRR annually. This corresponds to 3.7-5.8% of the additional needs.